About us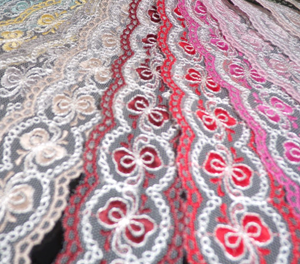 The Trajectory
ESTIL GRUP is a family business with over 30 years of presence in the market that has established itself as leader in the field of industrial embroidery. This is achieved by maintaining a close relationship with its customers and making quality and service at a competitive price their main weapons. Which has allowed him to work with major retailers and garment manufacturers of internationally.
Product and service
It specializes in manufacturing quality embroidered straps and embroidered fabrics. The quality of our product and service lies in:

The valuable Know-How accumulated over time with his specialized human team.
The best embroidery machine SAURER and Lasser Switzerland with its modern and convenient facilities with over 3,000 m², will allow an annual production of over 10 million meters.
Design department available to its customers to meet their needs, and with an accumulated several thousand references.